Me last night: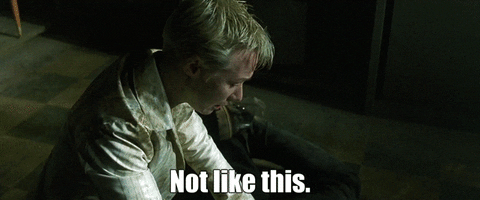 No, really: That's it? That's how it ends? That's how the 2016 Red Sox go down? That's how Big Papi's career comes to a close?
Ooof. I can't even look at that picture without looking like that picture.
Yes, I admit it: My eyes started sweating when Papi waved goodbye last night.
It wasn't supposed to go down like this. David Ortiz was supposed to ride off into the sunset soaked in champagne and smiling like the Cheshire Cat after getting swarmed at home plate in the wake of a World Series-clinching walk-off homer. He certainly wasn't supposed to stand alone on the Fenway mound in tears after getting swept out of the playoffs in the first round by the Cleveland freakin' Indians!
I mean, come on, seriously? THAT'S HOW IT ENDS??
Yes, boys and girls, that's how it ends … because baseball doesn't care about that magical finale you envisioned. Much like life itself, baseball is more than happy to gut-punch you and laugh in the face of your foolish expectations.
Listen, I don't know what to say. I was insanely excited to watch the Red Sox go deep into the postseason. I thought the ALDS was a formality … the pre-game party before the playoffs really got started. (Now would be a good time to re-read the previous paragraph.)
It sucks that a team with so much potential didn't even show up in the ALDS … and it sucks that Papi didn't get the storybook ending he deserved … and it really, really sucks to be a Red Sox fan right now.
But I'll do it all over again next year. I always do.
In the meantime, I'm gonna go root for some old friends…