They did it.
After all the hype, all the talk, all the hand-wringing, all the speculation about the starting pitchers and the bullpen and the suddenly quiet bats, the Boston Red Sox mowed down the competition this postseason, posting an October record of 11-3 and hoisting the franchise's fourth World Series trophy in the past 14 years.
So, of course, we couldn't properly celebrate from afar. At least, that's how my son felt about it.
Approximately 30 seconds after Game 5 ended, he began campaigning for a road trip to Boston to attend the parade. He was 10 years old the last time the team celebrated a World Series win, and although we already were living in Pennsylvania at the time, we happened to be in the Boston area on the day of the 2013 parade. He was visiting with friends, so I made the last-minute decision to attend the celebration without him. Needless to say, that wound has never fully healed.
When I returned home from work last Monday, he was still angling for me to take him to Boston. At first, I tried to talk him out of it.
"Buddy, if we do this, it's going to be, like, a 24-hour trip, and we're going to spend literally half of that time in the car." There. That oughta do it.
"Sounds good to me," he replied.
Damn.
"We'll see," I said. "I don't think we're gonna go, but we'll see."
On the morning of the parade, I got out of bed and opened the curtains to this view: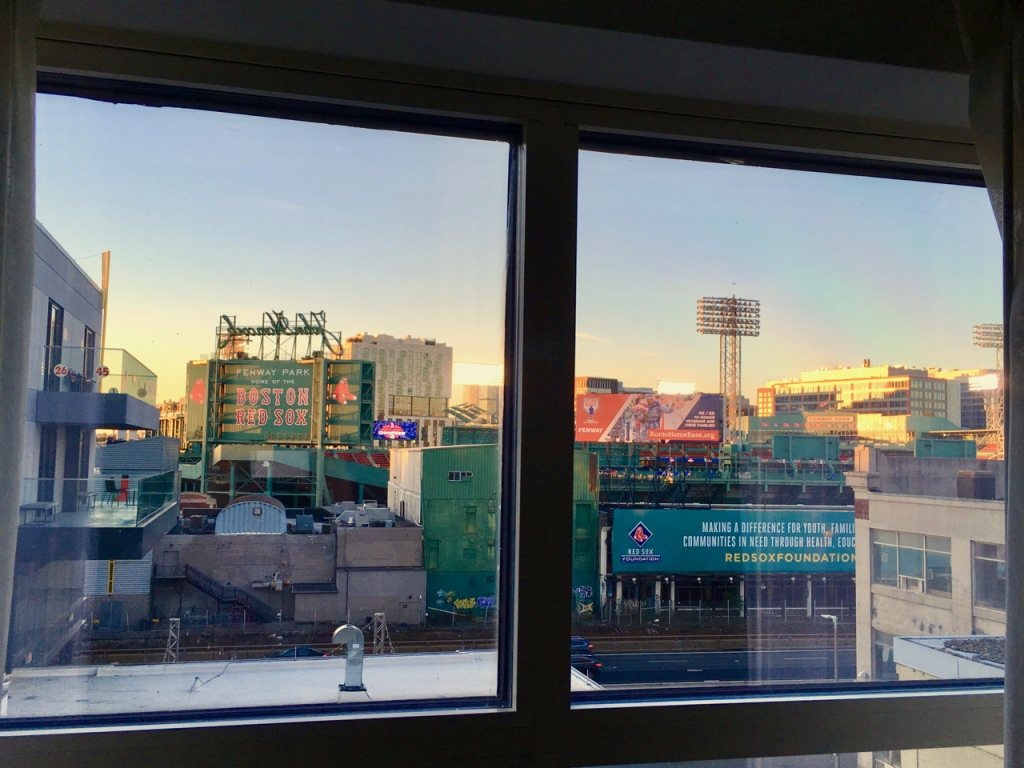 I have no idea when the Red Sox will again win the World Series, but whenever they do, my son no longer will be 15 years old, and it is entirely possible that he no longer will have any interest in road-tripping to Boston with his dad … so, yeah, I decided to go for it. And I'm glad I did.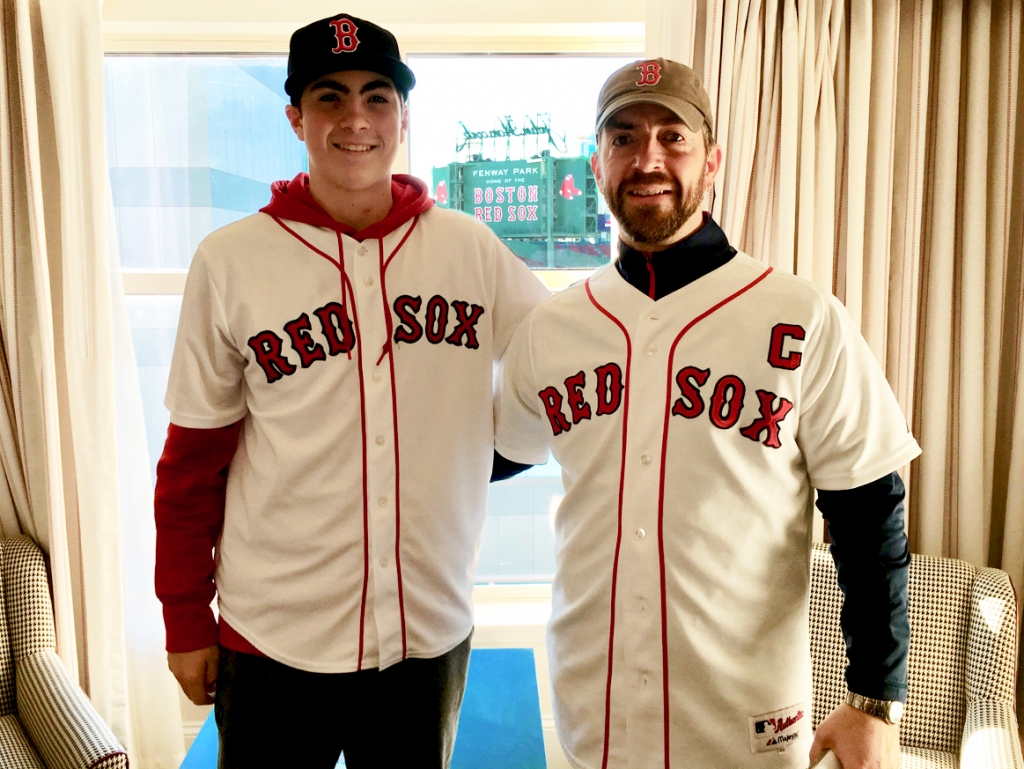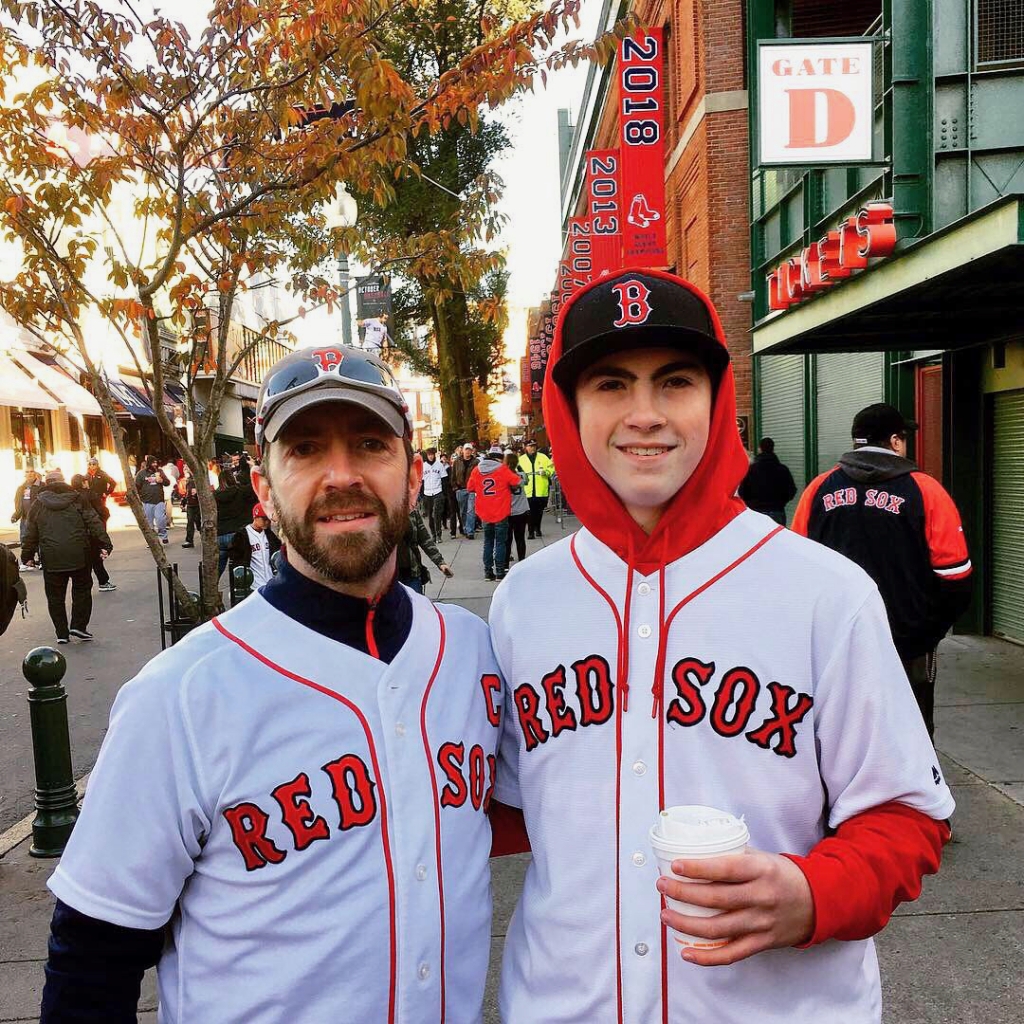 And, hey, speaking of father-and-son bonding: My dad came in from the 'burbs to join us.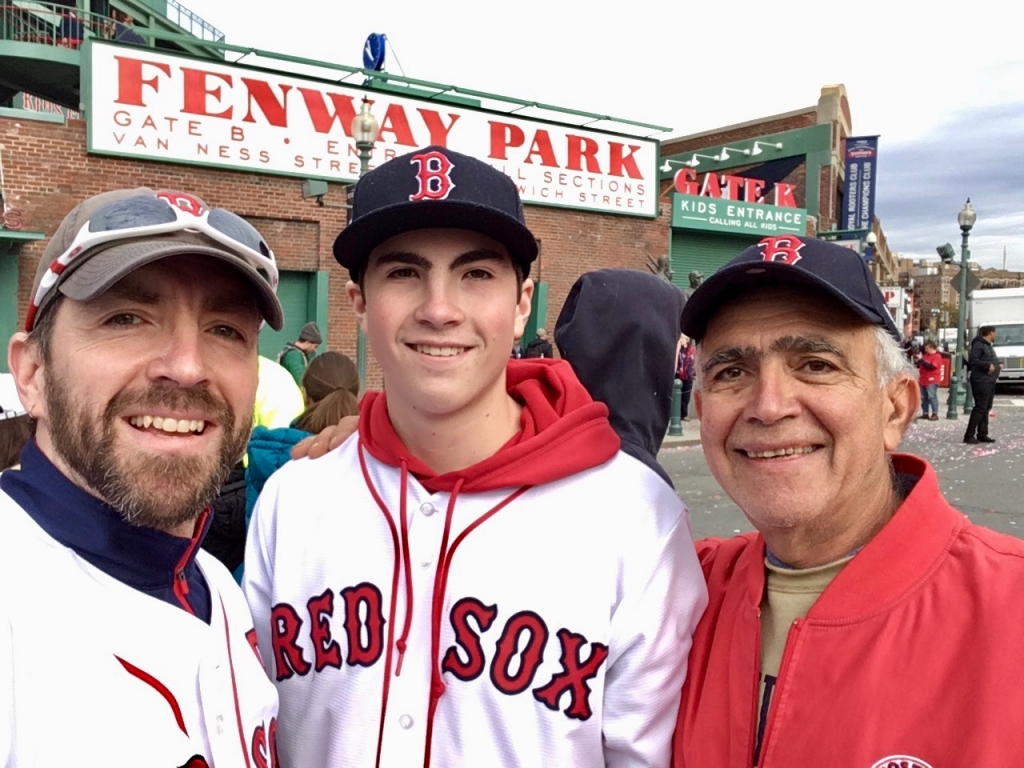 As if unexpectedly scoring a room with a view of Fenway wasn't enough, we also managed to snag a prime viewing location for the parade itself: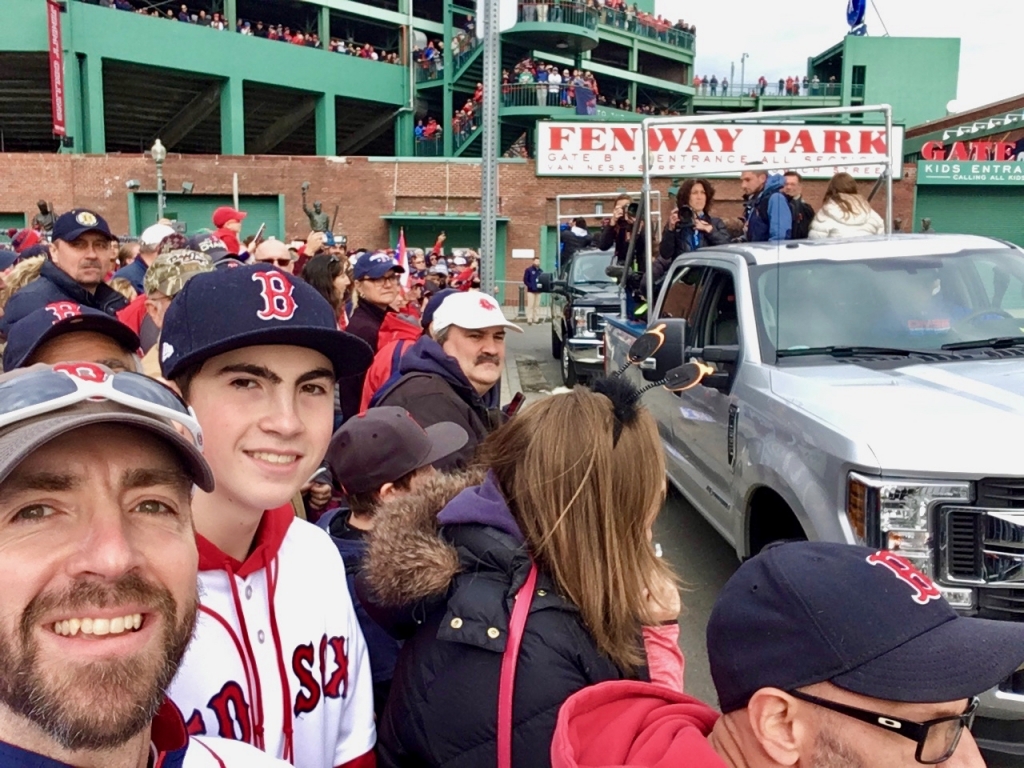 How close were we? Close enough to make it into Mookie Betts's selfie: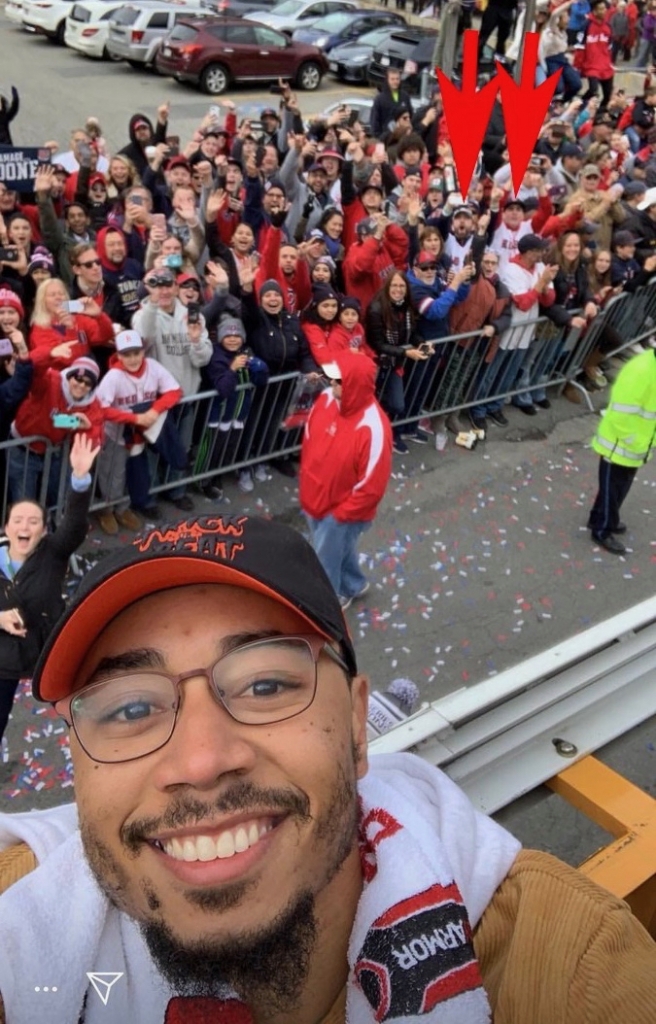 Here's some footage of Mookie cruising past us and taking that photo:
Parade-day bonus: Being at the starting point meant we had plenty of time to beat the rush for lunch at Regina's before the parade ended. (There was no way we were driving all the way to Boston and not getting lunch at Regina's.)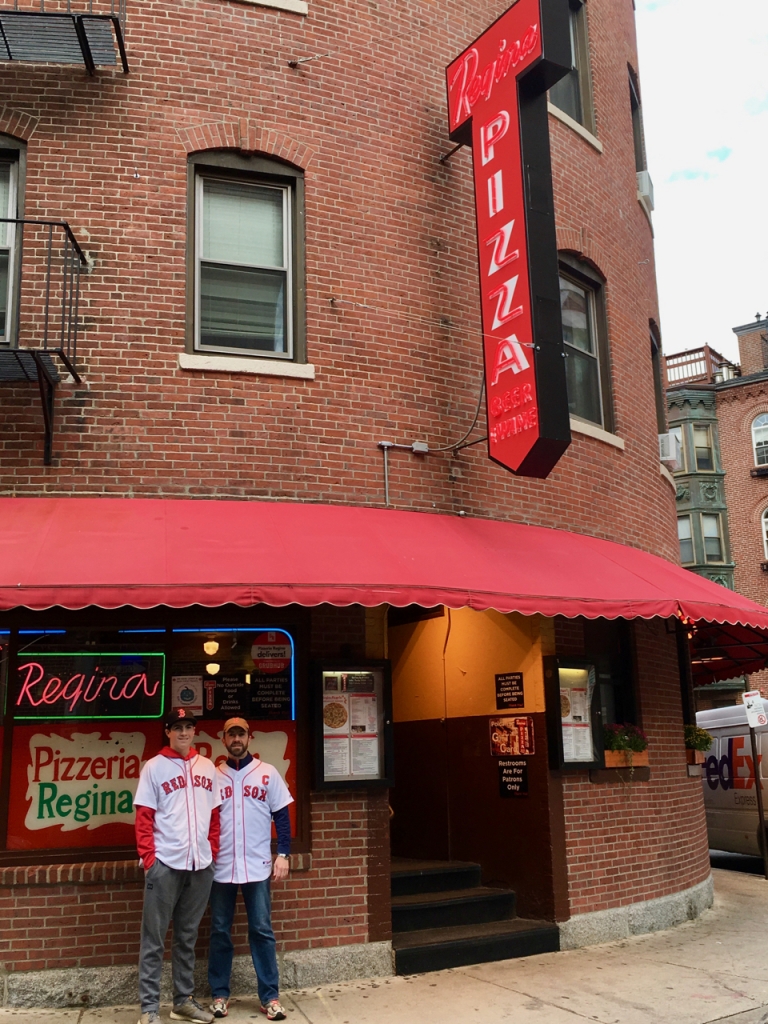 That empty sidewalk we're standing on in that picture? By the time we left, it was filled with parade-goers waiting to get in.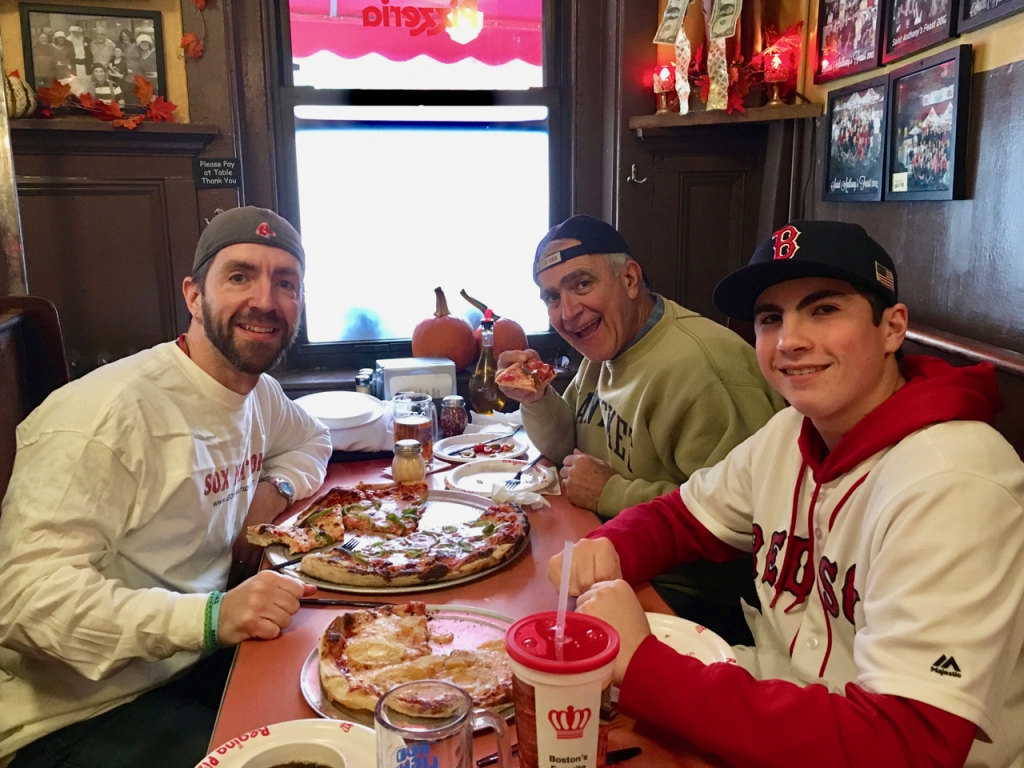 Right after lunch and roughly 14 hours after arriving in Boston, we were back on the road headed home. The traffic was hellish … but it was a small price to pay for the unforgettable experience we had.
Seeing the Red Sox win the World Series for the fourth time since my son was born was amazing. Celebrating it with him in Boston was even better.