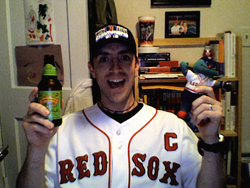 Second greatest comeback in postseason history … and you all have me to thank for it.
It was the fifth inning and the Sox were getting blanked, 5-0. It was a funeral. Sox hitters looked like zombies, and Sox pitchers were helping the Rays hold an impromptu home-run derby. The TBS announcers had shovels in hand and were tossing dirt on top of the almost-closed coffin.
My wife had seen enough.
"I'm going to bed," she said. "I'm sorry honey," she added, trying to comfort me as my team rolled over and played dead.
And then I had an epiphany: the pre-game cheer! My son and I forgot to do our planned pre-game cheer!
Before Game 1 of the ALCS, we were in his bedroom, and we took all of his stuffed Red Sox toys — three bears; a disturbing-looking baseball with a face, arms and legs; and a little stuffed Wally doll — and, while I clustered together one hand from each of them, we placed our hands on top and did the "One, two, three: GOOOOOOOO RED SOX!!" thing. And they won.
Then we forgot … before Games 2, 3 and 4. When I broke the news to him each morning following a loss, he would say, "We forgot to do the cheer!"
So there we were: the Sox were about to get eliminated, and it was, of course, all because we forgot to do the cheer.
And not only did we forget to do the cheer, but I was dressed entirely wrong. I had to act fast.
I dashed into the bedroom, shed the non-magical duds I was wearing, and threw on my authentic Jason Varitek Red Sox home-game jersey, my 2004 World Series Champions hat and the same shorts—now tattered — that, along with the aforementioned jersey and hat, I had worn for last year's ALCS Game 5, when the Sox were down three games to one, and rebounded for a three-game streak that sent them to the World Series, which they then swept.
As I emerged from the bedroom and passed my soon-to-be-slumbering wife in the kitchen, she gave me the look … the one that says, "Dear god, I married a crazy person."
"I'm pulling out the big guns," I told her before grabbing the stuffed Wally doll and heading upstairs.
I entered my son's room and, by the dim glow of his nightlight, gathered the rest of his stuffed-Sox crew. I then sat on his bed, clustered their hands together in my left, grabbed his right wrist, placed his limp hand on top, and covered it with my right. He stirred a little bit and, for a split second, looked at me groggily.
"Gotta do the cheer, buddy," I said, then whispered, "One, two, three … goooo Red Sox."
Wally in tow, I headed back to the family room, stopping first in our bedroom to say goodnight to my wife, who had just crawled into bed.
"We're all set," I told her. "We did the cheer."
She gave me that look again. How dare she not buy into my neurosis?
Back to the couch. I sat Wally down on one side and planted myself on the other. Tampa Bay scored two more runs in the top of the seventh, making it 7-0, and then had the Sox down to their final out in the bottom of the seventh. The Rays were seven outs away from going to the World Series, and the TBS announcers were essentially reading the Sox's obituary.
"There is, we have just been told, champagne on ice in the visitors' club house," one of them said.
Clearly, they were unaware that I had just shifted the entire balance of the game by changing clothes and collaborating in the dark with a group of stuffed animals and a sound-asleep 5-year-old.
The accompanying photo was taken at around 12:30 a.m. on Oct. 17, minutes after the Sox executed the greatest postseason come-from-behind victory in 79 years.
You're welcome.
Game 6, tonight, in Tampa.
(P.S.: Here's what I stayed up doing till 2:30 a.m. that night/morning, which also was featured on the Dirt Dogs website.)